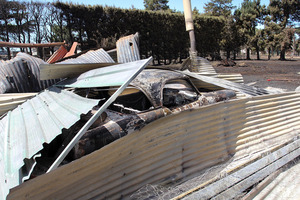 Elderly builder Mervyn White sobbed as he mended an irrigator with a charred hacksaw, his only tool to survive the scrub fire that destroyed his priceless vintage car collection.
"They're just cars ... but they meant a lot to me."
Five rare automobiles, kept lovingly polished and under cover in their original condition in a farm shed, have been reduced to irretrievably burned-out shells.
They represented a lifelong fascination with classic cars for the semi-retired carpenter in his 70s.
In a flicker, they were torn away from him in Thursday's inferno that came within 3m of razing his family home of 24 years to the ground.
"It's very hard to take," an emotional Mr White said yesterday.
He was eating lunch at his Shands Rd home, 10km south of Christchurch, when he noticed smoke around mid-afternoon.
His wife Pat shouted to him that she'd also seen smoke and they got in their car and drove towards it to investigate.
Within five minutes they were cut off from their 12.5-acre property.
"They (fire officials) wouldn't let us back in. I wanted to get some of my stuff out of the way."
By now the fire, fanned by gusting nor'west winds, had taken hold of the area.
More than 1km wide, the fire front skipped across Shands Rd and gobbled up dry land.
It ripped through his neighbour's property, gutting elderly couple David and Deanna Hartley's home.
Helicopters dumping monsoon buckets of water saved Mr White's home. But the nearby shed with his vintage car collection - a pink 1954 Nash Metropolitan, one of 100 made; a "very rare" 1929 Model A bread van; 1925 Model T pick-up truck; 1930 cabriolet coupe and a 1937 Ford 8 - was overcome.
Yesterday he showed APNZ photographs of the cars, worth "thousands", in their original condition. "I was going to start restoring the bread van this month," he said. "It had a lot of history. But the fire has beaten me to it."
The cars were "irreplaceable", he said.
Even if they could be replaced, he had cancelled their insurance policies after the premiums spiked after the earthquakes.
"I'll just have to take it as it comes.
"There's worse around than me. (David) Hartley lost his house. We're lucky to get out of it."
Daughter Lynda White said her dad would "rather the house went" than his beloved cars.
Where another shed once stood lay the remnants of an aluminium caravan that "melted to pieces" in the extreme heat, which also claimed a modern car, tractor, ride-on lawnmower, and a lifetime of hand tools.
"I've been working for myself as a builder for 50 years on March 13," he said.
"Those tools were built up over my lifetime."
Aside from his house being saved, there was one other silver lining for Mr White.
The first car he ever owned, an immaculate 1930 Model A pick-up truck he restored himself, was parked in another garage which was licked by flames but otherwise untouched.
"Thank Christ it's been saved," he said, before hooking his irrigator up and dampening down still smouldering hotspots.