Behind every drowning statistic is a grieving family. Robbie Farquhar, 29, died while he was diving at Matakatia Bay, Whangaparaoa. His partner, Lauren McKenzie, tells her story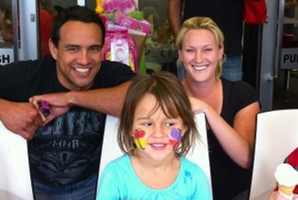 Robbie, a natural athlete who loved adventure and was always on the go, had a smile which would brighten up any room.
On December 29, when the rest of New Zealand was preparing to celebrate the New Year - our family were handed a devastating blow with the news of the loss of our beloved partner, brother and son.
The day he died had been a typical family day out which, incomprehensibly, ended in tragedy.
The gap in our hearts which we have been left with after his passing will take time and many tears to fill, if ever.
I will miss how he made me happy every single day of my life. I will miss how he would always come home to show me and daughter Paige his new Jiu Jitsu (martial art) moves. We will all miss his laughter and him charging through the door.
Anyone who knew Robbie could see he had a heart of gold. He would do anything for anyone and never had a bad thing to say about anyone.
He had a huge passion for life, was outgoing and will be remembered for the love he had for his family and friends - something which was contagious.
He loved the water and would try to wake us at 5am to go for a swim with him.
Robbie and I had just bought a house. It was a project which Robbie worked on till the early hours of the morning. The house remains unfinished but friends and family are working together to see the project completed.
The last thing he was doing before he died was teaching our 4-year-old daughter how to surf.
Paige has asked for her father every day since his death and her love for him, as well as everyone else who knew and cared for him, will last forever. We are gutted he will not see her grow.

• Robbie leaves behind Lauren, his partner of eight years, their daughter Paige, and Valiant, 9, and Lyndsy, 7, from a previous relationship.