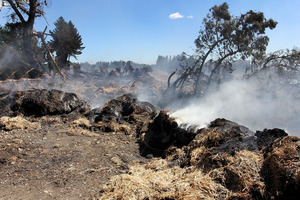 Thoroughbred horses caught up in the Canterbury scrub fires were let loose from their fields and left to fend for themselves.
The fire which yesterday (Thursday) ripped through dry farmland on the southern outskirts of Christchurch, spurred on by strong nor'west winds, is a popular area for horse studs and stables.
There have been no recorded deaths or serious injuries to any of the horses.
Three houses have been gutted and up to 150 hectares of farmland affected.
Police ordered farm fences to be cut and more than 20 horses were let loose as the massive blaze spread across the rural area between Rolleston and Prebbleton yesterday afternoon and early evening.
Nationwide Horse Transport owner Alan Taylor was called by a Robinsons Rd horseowner about 3pm pleading for help.
"We caught a handful of yearlings running up Springs Rd heading towards Christchurch," Mr Taylor said today.
"They were on a mission and pretty stressed, so I think they were pleased to see us."
Later in the day, as firefighters and helicopters with monsoon buckets battled to bring the blaze under control, he was called out to help evacuate more horses at another stables near where the fire started.
Using two large horse transporters, he rescued nine Arab mares and took them to other farms out of harm's way.
"I was more than happy to help out," Mr Taylor said.
Top horse trainers Colin and Julie De Filippi saved 11 of their horses as the fire came within 250m of their stables.
"We were lucky enough to get all of our horses out and really lucky it didn't cross the road to us," Mrs De Filippi said today.
She praised the local horse owning community for rallying around with horse floats and manpower to act quickly and save the animals.
Today, it was business as usual but she felt some her neighbours who had been affected by the fire.
"It's pretty gruesome really."
- APNZ