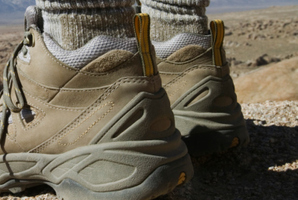 An experienced tramper cried out to his friends as he fell to his death down a steep rocky slope.
Nelson retiree John Leo Hannah, 63, had been tramping with friends in Kahurangi National Park, near Nelson, when he fell 15-20 metres down a steep chute on December 9, 2011.
He suffered a severe head injury, including a fractured skull and cuts to the scalp, as well trauma to his spine.
In her findings, released today (Fri), Coroner Carla na Nagara has found his death was accidental and not due to any lapses on the day.
The accident happened on the third day of Mr Hannah's tramping trip with his friends and hiking companions of some 20 years, Richard Wells, Robert Dickinson and David Lowe.
The men had slept well at Lonely Lake Hut and enjoyed a breakfast of porridge, cheese and crackers before setting off for Adelaide Tarn.
The day's walk, along a route new to them all, was expected to take up to 11 hours and was to be the toughest and longest of the trek.
The first setback came between 9.30am and 10am, when Dr Lowe injured his lower ankle. He soon realised he would not be able to continue, and the men activated an emergency locator beacon.
After a rescue helicopter picked up Mr Lowe, the remaining three men pushed ahead, eating scroggin and chocolate before breaking for lunch about 1pm.
They took no other significant breaks as they pushed along the hard-going route to Adelaide Tarn, which was not a marked route apart from the occasional cairn - a man-made stack of stones.
When Mr Dickinson suggested they break for a meal, the others said they were keen to carry on, intending to eat dinner when they reached Adelaide Tarn hut.
At the end of the valley they encountered a 15-20m high steep, rocky chute. Mr Hannah held back as his companions scrambled up using their hands, with sticks catching Mr Dickinson's pack.
After getting to the top, Mr Dickinson suddenly heard Mr Hannah cry out and heard a rumbling sound.
He could not see Mr Hannah at first, but then saw him roll and slide down the chute.
The other two men found him bleeding from the head and unresponsive.
They activated the emergency beacon again and were airlifted out that night, but Mr Hannah's body could not be removed until the next day.
Coroner na Nagara said it was not possible to give a definitive cause of the fall because it was not witnessed.
But it was entirely possible Mr Hannah lost his hand grip or footing, or overbalanced when something caught on his pack.
Mountain guide and snow safety specialist Geoff Wayatt noted the accident happened at the end of a long and arduous day of tramping.
Coroner na Nagara said although Mr Hannah usually prided himself on going first, he had been at the back of the trio that afternoon.
She said he could have been more tired than he had let on and, although the men had snacked as they walked, it was possible his energy was low.
Coroner na Nagara found no evidence the men were not properly prepared or lacked the experience needed for the terrain.
While she did not place blame, she hoped her findings would draw attention to issues which could prevent the chance of similar deaths in the future.
APNZ mb gf
- APNZ