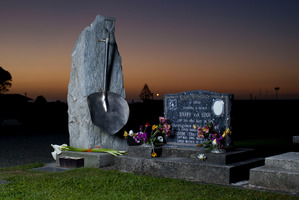 A lone bagpiper will play next Saturday when the $250,000 memorial to the 427 men killed in West Coast coalmines is officially unveiled.
At 3pm on January 19; the 46th anniversary of the Strongman Mine disaster; ministers, next of kin and descendants will gather on the Greymouth floodwall for the unveiling.
Although it coincides with Strongman, organisers stressed that they also want the day to honour those killed in long-forgotten tragedies.
Grey District Mayor Tony Kokshoorn said families who had lost family members in mining accidents had told him how much they appreciated the memorial.
"It's important to remember those who contributed to our coal industry over the years. It's such a huge part of West Coast life.
"It highlights our big disasters, but also the hundreds of individuals who have never had a place for someone to remember them by."
Part of the memorial will be covered next week in advance of the official opening.
Visiting piper Bruce Keddie, who played the lament at the Pike River Mine service, is scheduled to return to Greymouth for the occasion, but as he is recovering from an accident he has arranged a reserve piper as a back-up plan.
The monument will then be blessed by Fr John Morrison, Archdeacon Robin Kingston and Rev Mere Wallace, representing the Catholic, Anglican and Maori churches.
Mr Kokshoorn said organisers had deliberately left room on the monument for additional names. Mining historian Peter Ewen had spent a year collecting them, but they did not expect to have them all.
- The Greymouth Star