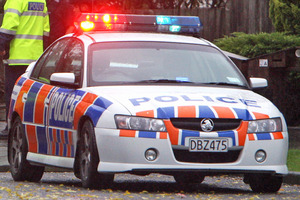 An elderly Christchurch man watched on in horror as his son was badly beaten in a road rage attack, police say.
The 37-year-old suffered serious facial injuries when he was allegedly attacked on Johns Rd in Harewood on Sunday morning.
He underwent surgery in hospital, and since mid-week has been recovering at home.
Detective Sergeant Mark Worner said the victim informed police of the incident only after he was released from hospital.
He had been driving with his 80-year-old father when the incident happened about 7.45am.
Mr Worner said a blue Isuzu Bighorn truck was driving "very slowly'' down Johns Rd, so the victim overtook the vehicle.
"And for no reason whatsoever, the person took exception to the fact he was overtaken ... He came up behind him and was tooting and flashing his lights, overtook him again, slammed on his brakes and forced him to pull over to the side of the road.
"It was a very, very minor thing that caused it.''
The driver of the Bighorn assaulted the man on the roadside, close to the rear of the truck.
"The victim's 80-year-old father was sitting in the front passenger seat of the victim's car and witnessed the whole attack, so it was very distressing for him too.''
Mr Worner said the victim was seriously injured, and doctors have said he will have to be off work until next month at the earliest.
"He's under sedation and spending a lot of time sleeping.''
The attacker is described as being of Indian or Fiji Indian descent, aged in his early to mid-20s. He is about 186cm tall and weights about 100kg.
Mr Worner said he hoped if the offender had told anybody about the incident, that person would come forward.
"Or someone who drove past and possibly witnessed it, maybe they'll give more information than the victim about what happened.''
Witnesses or anyone with information is urged to contact detective sergeant Mark Worner of Christchurch Police on (03) 363 7996.
- APNZ