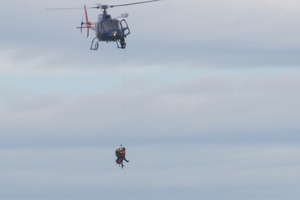 One of the four men who were winched to safety off the coast of Dunedin today says it took only a minute for their boat to go down.
The Rescue Co-ordination Centre New Zealand (RCCNZ) received a distress call on maritime radio shortly before 10.30am.
The crew said the boat was sinking fast, 12 nautical miles off the Taieri River mouth south of Dunedin.
The four men, who were on a fishing trip, were found in the water after a short search by two Otago Regional Rescue Helicopters with Dunedin water rescue staff aboard.
RCCNZ said the men were winched to safety by 11.40am and were flown to a waiting ambulance at the Taieri River mouth, where they were assessed by paramedics.
Dwayne Johnston, of Dunedin, said he was shocked at how quickly the boat - a seven metre recreational vessel - went down, saying it was "literally a minute from it being fully floating to sinking''.
"We were just going for a fish and hit [what] we can only think was just a bit of a wave and just water came through the hull.
"We raced round to find the flares, called the mayday in, and then everyone just got together and huddled up,'' Mr Johnston said.
A spokesman for St John Ambulance said apart from being cold and wet, all four men were fine and did not need to be taken to hospital.