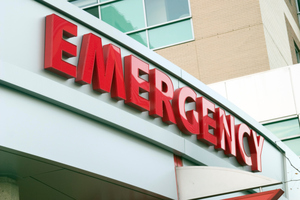 Seven people were taken to hospital with broken bones, cuts and abrasions after the van they were in crashed into a drain yesterday afternoon.
The crash occurred south of Hastings on Railway Rd about 5.30pm. The van was the only vehicle believed to have been involved in the accident.
St John Hawke's Bay district operations manager Stephen Smith said three of the seven men sustained broken bones, while the other four had cuts and abrasions.
"It was moderate to minor injuries but there were a lot of people to deal with, so we had three ambulances on scene," he said. "Seven people in a people mover had gone off the road and into a ditch."
The victims were all aged in their 20s and 30s and one person had to be cut out of the van by the fire service.
Hastings road policing Sergeant Ray Kirkby said the van was travelling north towards Hastings when it moved on to the left-hand shoulder of the road. It dropped into the drain at the side of the road before coming to rest 29 metres after its initial impact.
For more articles from this region, go to Hawkes Bay Today