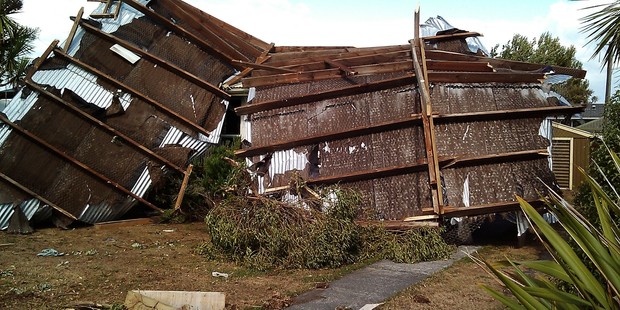 A small tornado in Kaikoura has lifted a roof and brought down power lines in the south island coastal township.
---
Have you been caught up in the wild weather? Send your photos and videos to yournews@nzherald.co.nz
---

Police received a call from a member of the public who reported the tornado on Beach road, in the centre of the town, about 9am, Southern Police communications shift manager Paul Reed said.
It lifted the roof off a house, which "went flying across the road", and is believed to have brought down power lines, which remained on the road, he said.

No one was hurt but power had been cut to several areas.

Police and emergency services remain at the scene and traffic had been halted.

The conditions had affected local businesses, with Whale Watch cancelling its tours today. It was also a casualty of the power cut, a staff member said.
The wild weather, which has washed out roads and flooded rivers cutting off much of the West Coast, is forecast to ease today.
MetService has lifted heavy rain warnings for Fiordland, Southland and Westland as well as the headwaters of Canterbury and Otago. However, a burst of heavy rain is still forecast for Buller, as a weakening front moves across the region this morning and early afternoon.
Severe gale warnings for Fiordland, Buller, Southland, Nelson, Kapiti coast, Manawatu and Taranaki have also been lifted.
Meanwhile, water levels at Lake Wakatipu are being closely monitored today after it rose half a metre during heavy rain overnight.
The levels at Wakatipu and Wanaka are forecast to peak around 3-6pm, however the Otago Regional Council does not expect levels to cause any flooding issues.
The Clutha is also high and several roads around the region have been closed because of flooding and the threat of landslips.
Heavy rain and lightning hit parts of the South Island overnight, sparking a number of emergency services callouts.
Fire officers attended several calls due to flooding, with Gore and Lumsden the most affected.
The Gore Volunteer Fire Brigade said flooding was widespread in the north and west of the area and it was called to seven houses where waters threatened to damages houses.
"There were some concerned residents about flood waters entering their houses," said chief fire officer Steve Lee.
Twenty-two fire volunteers, two appliances and a tanker worked to pump water from buildings. There were no evacuations and the weather was clearing, he said.
Crews from four tankers remained at Swannanoa, north Canterbury, dampening down hotspots where a scrub fire started at 3.30am.
Lightning caused six other fires, which have all been put out, in the South Island overnight.
NZTA said the heavy rain has closed sections of three South Island state highways, with SH94 closed from Lumsden to Te Anau due bridge washout at Whitestone River, SH6 is closed near Makarora because of washout damage to three sections of the road and at Haast Pass because of slips, while State Highway 73 is closed from Cass to Jacksons because of flooding and slips.
SH94 from Cascade Creek to Milford Sound also remains closed this morning until a road inspection is completed, while there are reports of further flooding on the road at Mirror Lakes overnight. SH94 from Mossburn to Te Anau was closed overnight however has since reopened.
SH6 near Makarora remains closed following further washouts overnight at Pipson Creek and Boggy Creek.
There is also minor flooding on SH1 at Gore and Lowburn, and also and Colac Bay.
Due to high winds and heavy rain the Milford Track was closed from 11am yesterday, with 120 independent walkers on the track across the three huts.
Thirty one walkers were expected to come off the track yesterday and the rest stayed an extra night.
Other parts of the South Island are facing fire dangers, with windy conditions expected.
A total fire ban imposed across Waitaki was in place as rural firefighters continue to warn farmers of the dangers of conducting burn-offs in windy conditions, in the wake of a severe gale warning issued for Otago yesterday.
MetService had forecast norwesterly gales of up to 120km/h in exposed areas of Otago and Waitaki Civil Defence emergency services manager Chris Raine said the ban would remain in place until the weather improved.