Kiwi fears tragedy at Russia ski resort could damage New Zealand's reputation.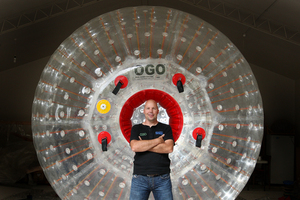 The Kiwi who invented zorbing is disgusted with the extreme activity's latest death and claims it could severely damage New Zealand's reputation as the world's adventure capital.
Amateur video footage has captured the final moments of father of two Denis Burakov as he plummeted over a cliff at a Russian ski resort.
Operators in the video, described as "cowboys" by New Zealand professionals, appear to have scant regard for safety, with no fence to stop the inflatable ball from reaching the edge.
New Zealanders David and Andrew Akers came up with the idea of a double-skinned inflatable sphere in 1994 and developed the activity of rolling down hills. The zorb had its first run in Rotorua.
Andrew Akers, who left Zorb Ltd in 2006 after taking the activity to the world, was disgusted by what is believed to be only its second death.
"It's horrific. Everyone will now think all operators are cowboys like these guys and it's very damaging for the sport," he told APNZ.
"It affects everyone in the industry, but it also affects New Zealand as a whole. We see ourselves as the adventure capital of the world and people see this stuff happening around the world and we get tarred with that same brush."
Hope Horrocks, chief executive of Zorb Ltd, which runs a popular Rotorua site, said: "Unfortunately, when you have a new adventure sport like this come out, especially in developing countries, you tend to see a lot of people not following any form of regulation."
The company has no links to the Russian operation.
The video clip, posted online, shows Mr Burakov, 27, and friend Vladimir Shcherbov, 33, who survived the incident, climb into the giant inflatable ball before being pushed down a skifield. But the orb soon leaves the groomed ski trail.
A man's voice is heard saying, in Russian, "Oh ****, it's gone in the wrong direction again," British newspaper the Daily Mail reported.
It careers left and right, with the male voice screaming: "Hold it, hold it! Hold!" and then, "Ah well, it's okay, it'll stop by itself."
The ball teeters on the edge of a rocky ravine, before disappearing down Ganachhirskiy Gorge at Dombai resort complex in the North Caucasus mountain range.
The person filming asks: "What's going on there?" "A catastrophe," someone says, and the clip ends.
An investigation has begun over the January 3 death and the operators may be charged with criminal negligence, a move welcomed by Mr Akers.
"To have complete idiots take my product, which I developed as a fun thing for people to enjoy, and do this is disgusting," he said.
"It goes against everything we stand for and it amounts to criminal negligence as far as I am concerned."
- APNZ