Greenpeace flagship visits New Zealand for the first time to pay respects to its sabotaged predecessor.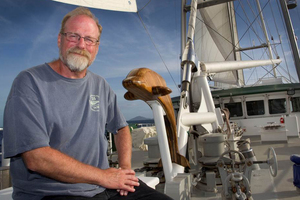 The Rainbow Warrior sails towards the rising sun. Dawn at Matauri Bay in the Far North is clear and still.
Not far away, under the waves, lies the original Rainbow Warrior, bombed by France 27 years ago in Auckland Harbour.
The new Greenpeace flagship is in New Zealand for the first time and has journeyed north to pay respects to the old Rainbow Warrior, a converted fishing vessel from the heady days of protest against nuclear testing in the Pacific.
Yesterday, the baton - of sailing into potential danger and engaging in non-violent direct action - was officially passed from old to new in a day of high emotion.
Ngati Kura, the local iwi and guardians of the submerged boat, boarded and blessed the new boat.
Kaumatua Hohepa Epiha said giving the appropriate blessing to the vessel was important "so that wherever it goes to, you just need to remember Ngati Kura, you just need to remember Matauri Bay and its parental gods will come and be part of your journey into safekeeping".
Among the group were two of the crew from the original vessel, which was bombed in 1985 by the French intelligence service, killing cameraman Fernando Pereira.
One was American Steve Sawyer, who said some ideas for the bombed boat included cutting it into coins, making it into picture frames and turning it into a museum.
But many who had a deep connection with the Rainbow Warrior wanted to give it a decent burial, he said, and thanked Ngati Kura for their guardianship.
Captain Joel Stewart told how the new boat was the third Rainbow Warrior - the second became a hospital ship in Bangladesh - and the first to have been designed and built for Greenpeace.
The responsibility for those on board now was to go into battle with the spirit of the first and second ships.
"We all need to learn how to live on this planet sustainably."