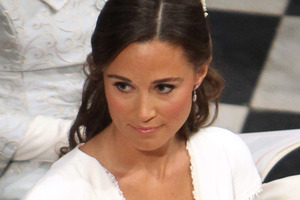 As athletes complete their final training runs for the multi-sport Coast to Coast race next month, a royal connection is missing from the starting line up.
Last month Pippa Middleton, the younger sister of the Duchess of Cambridge, announced in a blog on The Spectator that she had her sights set on competing in the West Coast to Christchurch endurance event.
However, race director Robin Judkins said Ms Middleton had yet to sign up for the gruelling race, but he would hold a spot open for her.
He has even compared birth dates of entrants, in case she entered under a different name, but none match up - including a 'Lucy Noble' from the UK.
The official list of entrants so far shows West Coasters may be a little complacent about getting their entries in for the race, which is limited to 800 athletes.
So far just two Westlanders have registered to take part; veteran athlete Steve Maitland of Ross and Whataroa farmer Gary Macrae.
It is understood members of the Hamilton family and several first time competitors from Hokitika have yet to sign up for the event.
There is currently no competitor listed from the Grey district and just two athletes from Westport have signed up.
The current list of entrants has a large group of overseas athletes, coming from as far away as Britain, Canada, Tahiti, Australian, Croatia and Singapore.
Keen athletes have until January 31 to secure their spot in the 243km race, which starts at Serpentine beach, near Kumara Junction, traverses the South Island to the finish line at Sumner beach, Christchurch.
It will be held on February 8 and February 9.