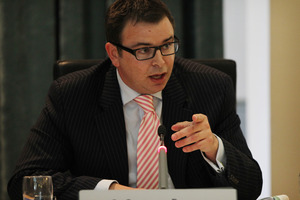 An Auckland Council member says its water company pumped nearly $10,000 a day into the coffers of city law firms to run up a legal bill of $3.5 million in the year to November.
Councillor Cameron Brewer said the Watercare Services' bill was 33 per cent higher than the previous year.
His inquiries showed the council-controlled organisation's legal bill for the year ending November 2012 was $3,584,204 compared with $2,679,809 for the previous year.
"This is yet another example of rising costs in Auckland local government," said Mr Brewer, who has vowed to bring greater scrutiny to the performance of the council's seven organisations. "We are seeing it too often at Auckland Council.
"Mayor Len Brown needs to gain greater control of these organisations.
"At the moment, they're spending up a storm, with little political and public accountability."
Watercare had broken its promise to ensure costs were well managed.
It had used 22 different legal firms in a year and spent an average of almost $10,000 a day on legal bills.
Mr Brown said in a statement yesterday that legal costs had reduced since the 2010 amalgamation of councils. Prudent financial management across the Auckland Council organisation had also seen proposed rate increases fall for the third year in a row, the council's international credit ratings upheld, and forecast savings and efficiencies of $1.7 billion across the 10 years of the current long-term plan.
A Watercare spokesman said yesterday that Watercare had not broken any promise. In fact, it had provided services for $74 million less than what the local water companies had forecast before they were absorbed by Watercare.
The increase in legal spending came from having to get resource consents for big construction projects. The company had $1.5 billion of projects under way.
It was prudent to use specialist legal contractors as opposed to having a large, full-time legal team.

Watercare's Legal Bills
• $3,584,204 total in 2011-12
• 33% up on previous year
• 22 legal firms paid
• $1.12m to Russell McVeagh
• $735,036 to Meredith Connell