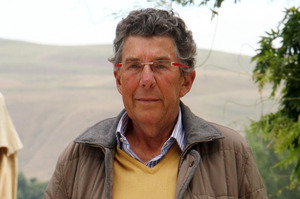 Sir Paul Holmes answered the phone with a hoarse voice and acknowledged his health circumstances had changed.
His investiture ceremony has been brought forward to next Wednesday, a rare move that has caused concern.
"It's not urgent, but it acknowledges a changing of circumstances which is happening - but it's not an emergency situation."
The veteran broadcaster, journalist and author was made a knight in the New Year's honours for his services to broadcasting and the community. He worked in broadcasting for more than 30 years, becoming one of New Zealand's most well-known personalities and championing several causes, including the Paralympics and the fight against methamphetamine.
The Governor-General, Lieutenant-General Sir Jerry Mateparae, will travel to Hawkes Bay for the ceremony.
"It will be held at my home, which is unusual, but my health isn't good, it's an issue, and they've very kindly agreed to accommodate me."
Sir Paul has been battling prostate cancer and a heart ailment, undergoing operations for both conditions last year. Just after Christmas, after he learned of his knighthood, he told the Herald that the effects of his medications had settled down and he was in a good place.
He wrote a personal account after open-heart surgery in June.
"I couldn't speak ... Not with the half-inch pipe down my throat. I couldn't sleep. Not for days. The staff urged me to try. But when I closed my eyes I saw only nightmare visions. It was unbearable. I was exhausted," he recounted.
"I've written this not to suggest I'm the only person who's ever had open heart surgery. Not at all. Please don't think that. But I've written it in good health, full of beans again, looking out on a golden spring day, the cold wind has gone and there is so much love in my life. What more could a man want?"