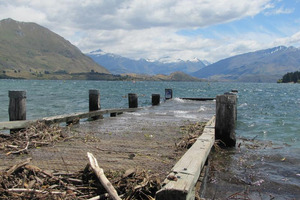 Predicted heavy rain from tomorrow is raising concerns about possible flooding of lakes Wakatipu and Wanaka.
Both lakes are already about a metre above normal levels because of heavy rain at New Year.
While levels are dropping, Queenstown Lakes District Council emergency management officer Jon Mitchell says more heavy or prolonged rain could create problems for low-lying properties.
The level of Lake Wakatipu yesterday was 310.5m above sea level and is considered high at 310.8, when it reaches the top of beaches.
Flooding can occur in Queenstown at 311.3m but the serious flooding in Queenstown in 1999 occurred when the level got to 312.8m.
Lake Wanaka was at 278.3m yesterday and flooding starts at 280m.
For the moment, Mr Mitchell said, it was "business as usual" - the council not taking any action "unless the situation looks likely to be changing for the worse".
Any flood warnings would be issued by the Otago Regional Council.
The district council would then call together emergency services and others to ensure everyone was working together.
"At the moment the forecast is only for possible heavy rain.
"We would wait and see what is being delivered, but it is certainly better to be ahead of the game rather than wait until there's water in the streets."
Businesses in low-lying areas have plans already to remove of stock and equipment if necessary and sandbags would be provided by the council in some circumstances.
"As it gets higher the water tends to come in through drains so sandbags are only useful for a low-level event."
Mr Mitchell said the problem of higher lake levels could be compounded by wind creating waves and washing debris ashore.
Southerlies or southwesterlies affected Queenstown and westerlies affected Wanaka.
Mr Mitchell said the heavy rain was predicted for a short time but if it went on for a longer period or was more intense "then there could be some issues".