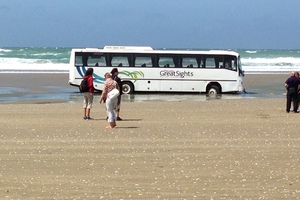 Less than an hour after the bus got stuck, it was surrounded by the advancing tide. Heavy machinery was needed to winch out a tour bus that became stuck in soft sand on Ninety Mile Beach.
The bus was taking tourists sightseeing on Sunday morning as part of a tour run by the Fullers GreatSights company and got into trouble while driving along the beach shortly before 11am.
Photos taken by a member of the public, Anthony Mildren, show the vehicle slowly taking on water as the tide starts to come in.
Despite that, GreatSights' general manager in the Bay of Islands, Charles Parker, said the situation was not as bad as first thought.
"It was successfully removed not long after the photograph was taken. They're just doing a little bit of work on it now and hoping to drive it back today.
"Other vehicles of ours ... did attempt to winch it out, but that wasn't successful. We then transferred the passengers on to other buses and called in a heavy machine from the forestry company and they got it out with ease."
At least 100 tourists were in a convoy of five buses.
Mr Parker said it was not the first time one of GreatSights' buses had become stuck in soft sand at the beach, but it hadn't happened for five years.
"It does happen occasionally. It's just one of the hazards that we undertake when we travel on the beach. The beach changes hourly and so we accept it as a hazard of our operation," Mr Parker said.
"We just try to make sure that our drivers are trained as much as possible to identify the hazards and avoid them."