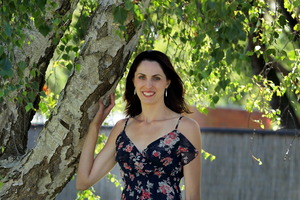 A young Kiwi mum born and brought up in Wanganui and now living in Brisbane, said she felt a bit like everyone's older sister when she first arrived at the New Zealand Opera School last week.
Soprano Shannon Atkin , 33, said she was anxious for the first hour but soon realised her 21 colleagues were all in it with her celebrating the brilliant opportunity of immersing themselves in opera.
"I'm just proud that I had the courage to come despite knowing there would be an age difference and that I was a mum. It's very strange not having to do the dishes, cook, look after my little boy. I feel quite selfish. And it's really weird sleeping in a cubicle in a dormitory."
Growing up in Wanganui, the young Shannon Tweedie started singing when she was at Wanganui Girls' College and sang with the Wanganui Community Choir of which she is now a patron, Wanganui Opera productions and recitals, she said.
When she finished college she headed for Wellington and the Massey University Conservatorium of Music where she studied with renowned vocal teacher Flora Edwards.
She met her husband Chris Atkin at Massey also a singing student, and for a few years they lived in Wellington before moving to Brisbane when Chris went into the IT industry.
"He's stopped singing now."
But for Shannon a strong yearning to sing again took over.
"It was like something was missing in my life, I was missing a huge and important part of my life and I had to get back to it. I had to have singing in my life again."
She enrolled in a music conservatory in Brisbane and joined a 15-strong vocal ensemble called Fusion.
"We sing classical music from all different periods and it's such a relief to be back singing again."
Her decision to apply for the opera school was to come and study stagecraft, language and voice from some of the best tutors there are.
"It's really dusting away the cobwebs for me and it's so emotional ... well I'm an emotional person."
After a master class with acclaimed voice coach Professor Paul Farrington she said was so exhausted she could hardly think afterwards.
"But it was brilliant and so helpful and I'm truly thankful."
Deep down Shannon said she wants to come home to New Zealand, Kiwi people and family.
"It's not that I dislike Australia but the people expect so much and most don't realise they live in such a privileged country. I just love the way Kiwis have a social conscience and they're kinder."
For more articles from this region, go to Wanganui Chronicle