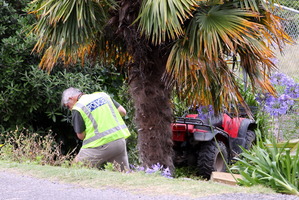 Police may rely on the injuries suffered by four adults to establish which one was driving the quad bike that crashed and left a 6-year-old girl fighting for her life.
Senior Sergeant Luke Shadbolt said police were still piecing together the circumstances behind the quad bike's crash on a country road at Waimarama Beach in Hawke's Bay last week.
Stephanie Lucas said she was the only adult on the bike who had not been drinking when it crashed and left her 6-year-old stepdaughter Ashlee Shorrock in a critical condition.
Ms Lucas, who claims she was not driving, said she had been pressured to take the fall for the crash because she was the only sober adult on board.
Ashlee's father, Daniel McGregor, and two other men, whose names have not been released, were also on the bike when it crashed.
Mr Shadbolt said police were still to determine who was in control of the bike at the time.
Blood samples taken from each of the four adults, who were all hospitalised, will be tested for traces of drugs and alcohol, and results may be several weeks away, he said.
Officers conducted a forensic examination of the crashed quad bike and the scene on Okaihau Rd where it drove down a slope and into a fence.
"It could be a little bit of time before we piece together all the evidence,'' Mr Shadbolt said.
"Enquiries are still continuing to establish who is likely to be facing charges.
"At the end of the day all of the adults there had to have an element of responsibility for the safety of the young child.''
Mr Shadbolt said the types of injuries suffered by people in crashes could often help police determine where they were positioned in a vehicle.
Ms Lucas said she could not remember who was driving when the bike crashed.
"I wasn't intoxicated,'' she said. "I had one drink all day. All I remember is one of the boys was driving. I know what we did was stupid but we're always on that motorbike and have driven that road thousands of times.''
Ashlee, who is recovering in Auckland's Starship Children's Hospital, suffered broken ribs, a broken arm, a broken collar bone and had been in an induced coma.
Ms Lucas had a broken jaw and a severed little finger which had been stitched back on.
- APNZ