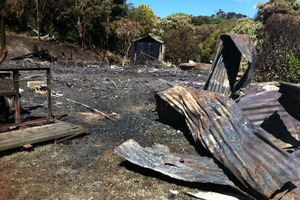 Five young people scrambled from a burning bach moments before it was engulfed in flames early yesterday morning.
The group, aged in their late-teens and early-20s, were staying at the property on Rakino Island, in Auckland's Hauraki Gulf, when the fire started.
First to arrive at the blaze was Eddie Parker, who owns a bach on the island, who said one of the teenagers had left a candle burning on the deck.
It only took a few minutes for the bach to be engulfed.
"The house was an inferno, it was like a massive bonfire. There were lots of explosions, probably from gas tanks exploding."
The remoteness of the island, which has just a few dozen residents, made tackling the blaze difficult.
Parker said experienced firefighters were dropped on the island by helicopter and locals helped to keep the fire contained until more crews could arrive from Parnell Fire Station on boats.
The bach in Woody Bay, owned by Aucklander Chris Ross, was being used by his son and four of his friends, neighbours said.
Ross was dealing with some "intensive family issues", a neighbour said.
Cathy Lewis went to the property to help the occupants and gave a number of them clothes to wear.
"It's been very frightening for everybody and it's been a big eye-opener for us all, just goes to show how easily it can happen."
Fire officer Jason Orchard said it was extremely difficult to battle the island bach blaze.
"Locals also had their own fire party with portable tanks and they were dousing down the perimeter around the fire so the bush didn't catch fire.
"They did a fantastic job. It was a combination of everyone working together."
Orchard said they struggled to find a water supply. "It is a risk of living in such an isolated area. Sprinklers in homes that are not close to water outlets is a good idea."