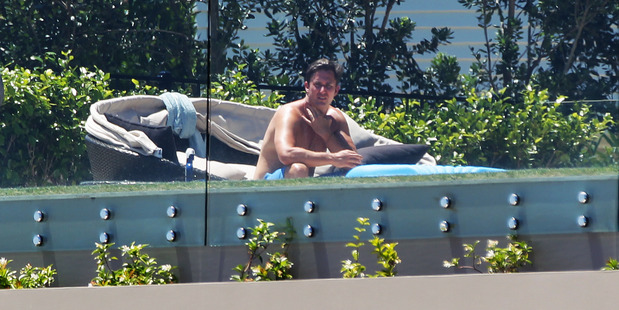 The much-maligned luxury Hotchin mansion on Auckland's Paritai Drive is at last hosting poolside parties.
The house has improved dramatically since autumn, when the partly-built property was pelted with eggs and attracted leering rubberneckers. It had become a lightning rod for anger towards collapsed finance company Hanover.
Yesterday, a young couple were relaxing by the recently completed pool. It was not known what their connection to the property was.
And it's not the first pool action. Intellectual property consultant and promoter Murray Stott was taking a friend for a drive around Auckland's eastern suburbs on Tuesday.
"I wanted to point out my friend the excess of the Hotchin mansion," Stott said. "As we looked we could see a blaze of conviviality. There must be a pool at the top. There were people in swimsuits and I saw a woman topless.
I was taken completely aback."
One local said there had been a party there earlier this week.
A senior construction worker would only say the house was nearly finished. The massive mansion was expected to go on the market this summer for at least $20 million.
Bayleys estate agent David Rainbow, who was selling a nearby home at Huriaro Place, said the Hotchin mansion was a "spectacular" property and would most likely attract an international buyer.
A neighbour with family connections to Hotchin said this week it was highly unlikely he would return to Orakei to live.
In April, Hotchin was reportedly more than $8 million in debt. He said almost all this debt was owed to a trust of which he and his children were discretionary beneficiaries.