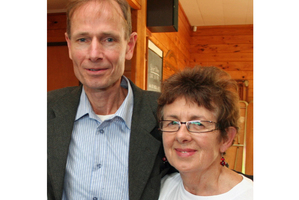 Carol Sweney knew little about voluntary euthanasia as she watched her husband die a long and painful death from motor neuron disease.
The disease robbed Ian Carrie's body of movement even though his mind was active.
"It was awful for me to see him like that. He was absolutely trapped," she said.
"He couldn't walk or swim and eventually couldn't even read because the pain relief would put him to sleep."
He told his wife he wanted to die with dignity. He was dying when the Death with Dignity Bill was introduced to Parliament. The bill aimed to give terminally or incurably ill people the right to request an assisted death by a medically qualified person.
"He would say: 'I hope that bill goes through, it will be too late for me'.
"He wanted it for other people."
The bill was defeated in 2003 and on October 8, 2005, Ian Carrie died.
After her husband's death Sweney joined the Voluntary Euthanasia Society to change the laws on assisted suicide for terminally ill people and is now president of the group that has 1250 members.
Sweney supported microbiologist Sean Davison, charged with attempting to murder his Dunedin-based mother in 2006 with a morphine drink.
The attempted murder charge was withdrawn and Davison admitted procuring and inciting her death.
He was sentenced to five months' home detention.