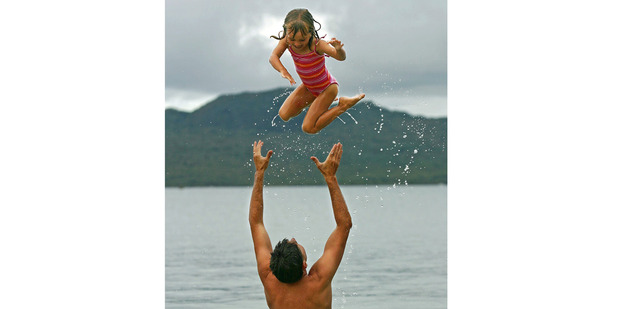 John Mercer cheerfully confesses he'd struggle to throw his 13-year-old daughter in the air nowadays.
But he quickly adds that that's more to do with his strength these days than any reflection on his teenage daughter.
Chelsea can be heard laughing in the background as he hastily clarifies.
Back in 2004, John was at Cheltenham Beach, on Auckland's North Shore, flicking his 4-year-old girl high into the summer afternoon air time and again. Photographer Amos Chapple happened upon the scene and caught the action as it happened.
"We happened to be there and he came along as we were having fun, as you do," John, turning 50 shortly, says.
This year, the family are back at the beach, but further north this time at Mangawhai where they have a beach house.
Chartered accountant John retains delighted memories of the photograph, although he doesn't have a copy.
"We'd go down to the beach at Cheltenham just about every day in the summer," he says.
"We still live in Devonport and your day can be entirely based around what time the tides are good. You want to go down to the southern end of the beach about three hours either side of the high tide."
Chelsea and her brother Jordan, 15 - still spend as much time as they can at the beach and are keen surfers, so the family has to travel further to catch the right breaks.
Chapple says he was trying to impress the Herald enough to get a job at the time.
"Usually I'd go to the coast and try to find something of Kiwi life but would always just come home with photos of dogs - dogs flying through the air, dogs sprinting into the sea," Chapple says.
"On this day the water on Cheltenham Beach was flat calm and these two were having a lovely time playing in the shallows. I had seen the dad throw the girl up from a distance so I walked out a little and asked him if I could photograph them doing it again. He threw the little girl extra high a couple more times.
"When I saw the picture up on my laptop I was really delighted with the energy and timing. My bosses were just impressed I'd gone to the beach and not brought back a photo of a dog."
John cannot remember what the summer was like in 2004.
"That's going back a bit," but he does know that this year is better than the last one.
"Last year was a shocker," he says. "We're already enjoying this one a lot more."