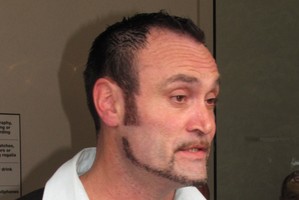 A Queenstown bouncer best known for uploading images of England rugby star Mike Tindall partying during the Rugby World Cup tournament is being hailed as a hero for intervening in a domestic attack.
Doorman Jonathan Dixon, who is facing a serious assault charge, saved a woman being beaten by a man on a Queenstown street on Christmas Eve.
English visitor Karen Lucas saw the incident, which happened on Shotover St in central Queenstown after midnight.
She said about 20 people were watching as the victim screamed for help while being bashed.
"Then out of nowhere this massive guy comes running across the road and grabbed this thug and stopped him.
"He said, 'You might hit girls back in your country, but not in mine'," Ms Lucas said.
She didn't know Mr Dixon's name at the time, but says she recognised him from news coverage as "the Tindall bouncer".
During 2011's Rugby World Cup, Mr Dixon uploaded video images to YouTube showing Tindall partying with a former girlfriend in a local bar.
The film, shot weeks after Tindall married Princess Anne's daughter, Zara Phillips, created international headlines.
Ms Lucas said she planned to tell everyone at home "about how that crazy guy is actually a hero".
"I watched that guy on TV and he scared everyone, but now I have completely new respect."
Mr Dixon said he ran to the rescue when the man punched the woman in the stomach.
"I grabbed him and pulled him away ... He was kind of shocked. It sort of woke him out of what he was doing.
"I like to think any Kiwi would have done the same."
He said Bronco Security boss Nick Parrish also helped, calling police, who took the man away.
Mr Dixon, who was charged with dishonestly accessing a computer over the Tindall incident, is also to stand trial next month on a charge of wounding with reckless disregard.
That charge was laid after Queenstown man Jordan Sinke suffered a head injury in a local nightclub and was taken to hospital.
Mr Dixon said friends had told him he shouldn't get involved in things like the Christmas Eve attack because he was already in trouble.
"What kind of person would I be if I turned a blind eye?" he said.

- Mountain Scene