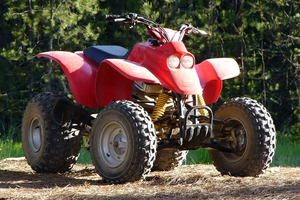 Sympathy has turned to anger as people in Waimarama try to understand the actions of four adults who crashed a quad bike, critically injuring a "beautiful little girl" late on Wednesday night.
The owner of the beach community's Jarks cafe, Marianne Poszeluk, said the crash that put Ashlee Shorrock in the Starship hospital in Auckland, as well as seriously injuring her father, stepmother and two other adults, has been dominating conversation at her eatery.
"When you hear about things like this, the community usually rallies to support the family. My initial thoughts were of sympathy for the parents, for what they were going through.
"But yesterday the feeling was one of anger because something like this could have been avoided.
"Ashlee didn't have a say in the matter and now this beautiful little girl is fighting for her life in the Starship hospital."
Ashlee's father, Daniel, 28, stepmother Stephanie Lucas, 22, and two men were believed to have been drinking at Waimarama Beach before driving the quad bike home before midnight.
It crashed down a ditch and into a tennis court fence on Okaihau Rd.
Ashlee remained in a critical condition at the Starship last night. Mr Shorrock was transferred from Hawkes Bay Hospital in Hastings to Middlemore Hospital in Auckland for further specialist treatment.
Ms Lucas and a 29-year-old man also involved in the crash were discharged from Hawkes Bay Hospital yesterday. A 20-year-old man from the crash was in a stable condition at the hospital in Hastings.
Ms Lucas worked at Jarks Cafe and Ms Poszeluk, her boss, often saw Ashlee and was fond of the Waimarama School pupil.
"This will hit us pretty hard. How can we convince people not to do something like this again? That's what everyone is asking at the moment.
"Waimarama is getting a bad name for things like this happening but it's not a true reflection of the community. Also the Fire Service out here has been called out too many times for things that could be avoided or should not have happened."
Waimarama School principal Kelly Vaney said her pupils would want to see Ashlee's "smiley face" at the start of the school year next month.
"She is a happy ... little girl who is very playful and imaginative. She loved coming to school.
"It must be tough for a little girl to have to go through all of this and by the sound of things it's going to take a long time for her to get through it all."
Scott Boyes, a doctor on duty at Hawkes Bay Hospital when the injured group were brought in, said innocent people would continue to be hurt if there was no change in attitudes to alcohol.
He said the crash brought home the impact of New Zealand's culture of drinking.
"It's very sad," he told Radio New Zealand yesterday.
Dr Boyes said that over the holiday period a record number of patients had been admitted with injuries related to drunkenness.
"What we would really like is to be more proactive in changing our attitudes to drinking and what we see (as) responsible drinking.
"The quad-bike accident illustrates that to us - what is responsible? Is this acceptable behaviour? And really making those decisions before ... alcohol is involved."
Senior Sergeant Luke Shadbolt said police were yet to determine who was driving the quad bike when it rolled but the crash was the result of "the stupidity of the adults", who were all aged between 20 and 28.
For more articles from this region, go to Hawkes Bay Today