Distraught family ask public to help police solve lethal attack on New Year's Day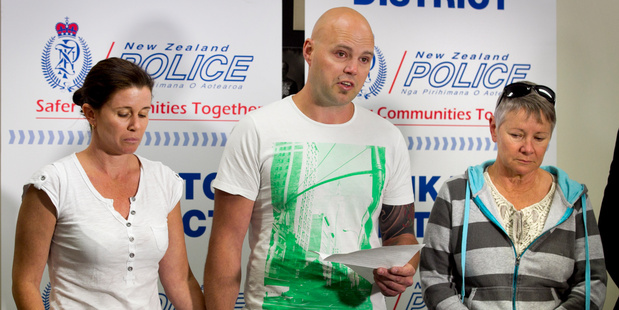 The family of a man fatally stabbed on New Year's Day say they are desperate to know who is responsible and why the killer committed such "brutal violence".
Robert Wilkinson, known as Murray, was stabbed outside a caravan parked in the driveway of a Waihi Beach home early on Tuesday morning.
He and his wife had been sleeping there at a friend's property and Mr Wilkinson was attacked while investigating a noise outside.
The 64-year-old was rushed to Waikato Hospital's intensive care unit but his injuries, understood to be to his head area, were severe and he died on Thursday.
Yesterday, at an emotional press conference in Hamilton, his son Dan appealed for the killer to come forward.
Flanked by his mother Luise and sister Cory Rance - both visibly upset - he read a brief statement.
"At Waihi Beach in the early hours of New Year's Day, a person unknown to us took our father, husband, grandfather, brother and, worst of all, our mate.
"It is impossible to express the complete devastation our family is now going through," he said.
"What we need most is to find the person or persons responsible for my father's murder. We are desperate to understand who took my dad from us and why. If you know anything, anything at all ... please let the police know. Somebody has the answer to my dad's death."
Dan Wilkinson said the family appreciated the public support and media coverage of the police investigation.
But he said they now "require privacy at this stage to heal without undue attention".
"My children and my sister's children have been robbed of their grandfather's love and Lu has lost the love of her life, due to senseless, brutal violence," Mr Wilkinson said.
"My dad is a selfless, honest and humble man who would be horrified at the attention he is receiving.
"We owe it to my dad to stop this happening to another family, so no one else has to have their life ruined like us."
Detective Inspector Chris Page said the weapon used to stab Murray Wilkinson had not been found, and the search area had been widened.
Mr Page appealed for anyone with information, or who had taken photographs in the area during New Year festivities, to contact police.
Many people had already provided photos to officers, who were using them to build a picture of those in the vicinity at the time of the stabbing.
"We still need more images. For us, it's about putting together a jigsaw. Someone out there is holding a little tiny piece of that jigsaw who may not realise how important it is," he said.
"Someone out there knows who is responsible. You've heard the family seeking answers. If that was your father, brother or uncle, what would you expect, what would you want?
"To the person or persons out there - what are you going to do to make yourself the bigger person?" Mr Page said.
"Get in touch with the Operation Brad team ... Help this family put this terrible tragedy behind them."

Can you help?
If you have information about the attack on Murray Wilkinson, or have photo taken in the Waihi Beach area on New Year's Eve that you have not spoken to police about, contact the Operation Brad investigation team on (07) 858-6200. Alternatively, contact Crimestoppers anonymously on 0800-555-111.