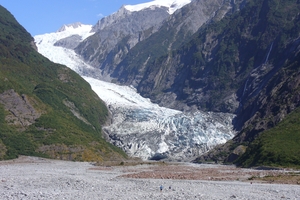 An advertisement for Franz Josef glacier on the back of a Queenstown bus and showed a builder's bottom, has been removed after a complaint.
The advertisement for the Franz Josef Glacier Guides showed an image of the backside of a tradesman as he bent over.
The tradesman's shirt had lifted slightly, and his jeans were slung low to reveal a portion of his rear end.
A crack separated the image of the tradesman, from an image of a man and a woman walking through a crack in the Franz Josef Glacier. The caption for the image said: "Unlike his crack ... You'll want to explore ours''.
K Gardiner complained the advert was offensive and in poor taste, and it was removed.
Ngai Tahu Tourism argued that Queenstown was an international tourism destination with a large number of sophisticated travellers, and this was the only complaint or negative comment.
It had no insinuation of mooning, which would indicate full exposure, and was clearly related to a widely known phenomenon.
The term 'plumber's crack' was used in Canada, Australia and in American English.
In the Netherlands the term bouwvakkersdecollete was used, and in Germany maurerdekollete.
The Advertising Standards Authority did not act as Ngai Tahu had taken the advert down.
- The Greymouth Star