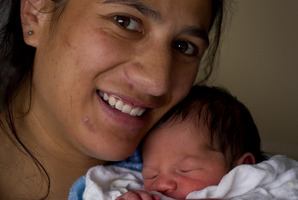 New mother Shayna Haddon counts her son lucky to have been born in New Zealand and says she is looking forward to seeing the kind of person he will grow up to be.
Anton Haddon Marsters Rudolf Houniet was born on January 1 and is the first child for the 25-year-old and partner Anton Houniet Snr.
At the North Shore Hospital maternity ward yesterday, Anton Jnr slept in his mother's arms as she fussed over him.
Ms Haddon, who grew up in Auckland's Glen Innes, said her son was lucky to be born in a country that would provide countless opportunities for him.
Having easy access to medical care, a solid education system and other public services and facilities meant life would always be safe and easy for him here - something that, as a mother, reassured her.
"It's always been said that New Zealand is a good place to raise children and I believe that," Ms Haddon said.
"It's a safe country and there's a good education system. I want him to go to school and become somebody - he can do whatever he wants to."
Ms Haddon said she also liked the fact that her son would be growing up in a diverse and multicultural country.
Most of the couple's family are also based in New Zealand, which she said meant Anton would always be surrounded by loved ones and would therefore always have a close connection with the place.
"New Zealand will always be a great place for him and he's lucky to be able to grow up in a close community."
Babies such as Anton born in the Waitemata District Health Board's area have a life expectancy of 84 years.
That compares with 82 for the world's longest-living people, the Japanese, and 81 for NZ generally.