So many things to love about home.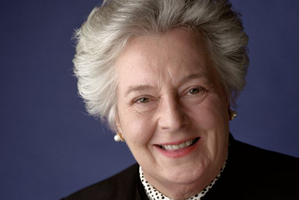 Expat Kiwi Judith Hanratty spends her days managing an international education trust, but this summer she's returning home to enjoy the simple things in life, like mowing her lawns.
Ms Hanratty is chairwoman of the Commonwealth Education Trust, which invests in the education, training and development of primary and secondary school teachers in Commonwealth countries.
However, eight years ago before she retired, Ms Hanratty was oil giant BP's company secretary; she held this role for 10 years from 1994 onwards. In 2002, she was made an OBE for services to the oil and gas industry.
She completed her doctorate at Victoria University and this summer will return home to Wellington.
She was a member of the World Class New Zealand network, residents and expats committed to aiding the country's international competitiveness and economic growth.
What do you most look forward to about coming home for summer?
Apart from people, which are always the first pleasure of coming back to New Zealand, it's to my [small] garden overlooking the golf course at Heretaunga, near Wellington. It is wonderfully well looked after for me by Claire Challis when I am away. When I am back I actually enjoy mowing the lawn - something I never get to do in England. The other things that are so special about being home are the wonderful open spaces, the breathtaking beauty of the countryside, the fresh air and the pleasure of playing golf and walking on the beach.
Where will you spend your time in New Zealand this summer?
I will be in my home at Heretaunga. I grew up in the Hutt Valley so it is really home. Upper Hutt has a nice village atmosphere which is a wonderful contrast to London. I usually make several trips into the country to visit friends - and I try if I can to visit somewhere that I have not been to for a while - to have a "tourist" experience.
What books will you be reading this summer?
I want to read the biography of John Wilson, Carry On, which was published last year in New Zealand. His family was kind enough to bring a copy to me in London. John has sadly passed away but he and his wife, Judy, were wonderful mentors and friends and I have saved it to read on holiday. It is going to bring back so many memories of New Zealand in my younger days. In a different vein, I have spent some lovely times on the Isle of Skye and I want to enjoy Claire Macdonald's story of how she created a wonderful lodge and businessthere.
What dish will you be cooking on the barbecue this summer?
The real pleasure of being in New Zealand is the wonderful fresh vegetables and fruit. So if I barbecue it will be something that goes easily with a salad - steak, mushrooms or lamb chops!