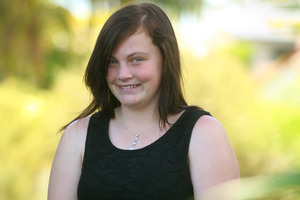 Courage, love and a dream to do better in life have been the tools one teenager has used to fight bullying.
Krystal Thorpe, 15, spoke out about her ordeal as part of the Herald's Stop The Bullying campaign in May.
The Year 10 student at Edgewater College in Pakuranga spoke of being called names such as "bitch" and "skank" by a group of about five girls in her Japanese class.
She was also punched on the side of the head by a classmate who accused her of getting smart.
When she asked once why they were being so mean to her, she was told it was "because I'm white".
Krystal says she has had a change of attitude and, with the help of close friends and family, is now strong enough to stand up for herself.
"My friends have noticed a change, I think. I've got the courage to look out for myself.
I can walk away from somebody, ignore them or stand up for myself.
"I can handle bullies now. I don't bottle up my feelings any more and I can talk about it to people. Sometimes it's hard to walk away and not feel bad about myself, but I can do that now."
A dream to one day become an early childhood teacher has also helped her.
She is actively looking for a job at local childcare centres for the school holidays and is getting set for an important year working to get credits towards her NCEA level 1.
"I've always loved being around kids and I really want to teach kids one day. I'm going to work really hard to make that happen and the year after next I'm going to enroll in the early childhood course at our school."
Krystal said having something to look forward to in life was an idea others who were being bullied should keep in mind.
"It's really hard at times. Sometimes you start believing what they're saying and it can really get to you.
"But you just have to be comfortable with yourself and work towards doing something for yourself.
"Bullying is something I don't want standing in the way of what I want to be in life. Be confident and believe in yourself."