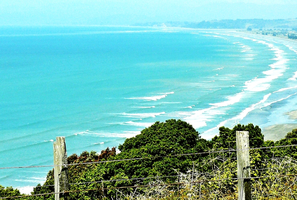 The dramatic rescue of two boys and a man stuck in a rip at a Bay of Plenty beach last night serves as a reminder for all water users to be aware of the dangers of New Zealand's coasts, police say.
This holiday period, New Zealand had the lowest number of drownings since 2006-2007, with three people drowning between 4pm Christmas Eve and 6am today.
Water Safety New Zealand was hoping for a zero holiday period toll, and said it was three deaths too many.
Oscar-winning sound editor Michael Alexander Hopkins drowned on Sunday in Wairarapa's flooded Waiohine River while rafting with his wife and another man.
A man in his 20s died while he was diving off the Whangaparaoa Peninsula, north of Auckland, on Saturday. A group of five were diving at Matakatia Bay when one of them failed to surface.
The third death occurred when 42-year-old Whakatane woman Lita Tarau went into the surf to help her son, who was in distress.
However, three lives were potentially saved yesterday at Ohiwa Harbour, near Ohope, when a police constable successfully led the rescue of two 11-year-old boys and a 31-year-old man.
Emergency services were called to the area about 7.50pm after the two boys got caught in a rip, and the man got into trouble while trying to rescue them.
The three were in the water for about 45 minutes by the time Constable Dean Oswald, who has a background in surf lifesaving, and two other helpers pulled them from the surf.
Mr Oswald praised another man and a 19-year-old who arrived at the beach with lifejackets and waded out behind him to help with the rescue. They reached one of the boys and Mr Oswald reached the other. The pair then helped the boys to shore while Mr Oswald swam further out to reach the man.
"One of the boys said `My uncle, my uncle' and I saw him further out, lying face-up with waves breaking over him. He was conscious but I'd say pretty close to going under,'' Mr Oswald said.
"It took about 15 minutes to pull him back to shore _ every time a wave came I said to him 'close your eyes, close your mouth, we're going under'.''
All three were flown to Whakatane Hospital. One boy was kept in overnight but is understood to be recovering.
Mr Oswald said the sea was rough, with waves more than a metre high at the time.
He said it began as an evening swim and showed how quickly things could turn around.
"It was a fantastic result but I see this as a wake-up call _ we get way too many drownings every year.''
Eastern Bay of Plenty area commander Inspector Sandra Venables praised Mr Oswald for his actions.
"These people were very lucky that officers with detailed local knowledge were in the right place at the right time. With his surf lifesaving skills, I can't think of another officer better able to deal with such a situation than Dean.''
Two 12-year-old cousins were hailed as heroes when they saved a man from drowning after he was swept out to sea by a rip at Bowentown Beach in the Bay of Plenty on Saturday.
Will White and Sergio Schuler were expected to meet the man they saved, a 32-year-old Aucklander who identified himself as Vincent, this week in Waihi.
For more articles from this region, go to Rotorua Daily Post