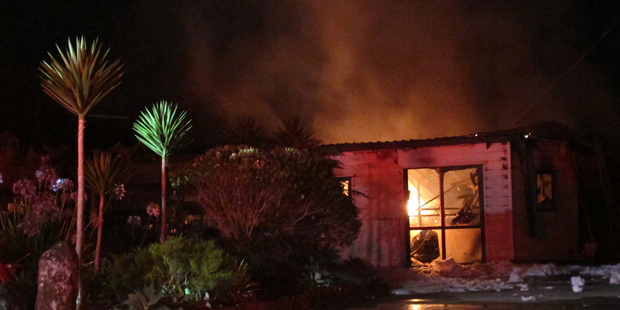 A fire investigator has confirmed a high-voltage powerline was the likely cause of a New Year's Eve blaze that destroyed a shed packed with fireworks.
The fire on Paihia Rd, Kawakawa, sparked a major emergency response because the shed contained 300kg of fireworks plus cyanide and Ferrotox for possum control.
A crew from Kawakawa Fire Brigade was joined by two fire appliances from Paihia, three from Kerikeri and one from Kaikohe as well as a paid crew, a volunteer operational support unit and the "Hazmat" hazardous materials command unit from Whangarei.
Shed owner Hadyn Wills, a commercial possum trapper and fireworks retailer, told the Advocate he believed the fire had been caused by a high-voltage powerline falling onto his property.
Power company workers had replaced fuses on a transformer next to his drive just two weeks earlier, he said.
Fire investigator Craig Bain returned to the fire scene on Tuesday, spending the day poring over the remains of the shed and examining a house 200m away which caught fire later on New Year's Eve.
Mr Bain said it appeared the 11,000 Volt cable which passed over the property had fallen causing the shed to catch fire.
The resulting power spike was the likely cause of the fire in the other house, which had started at a power socket.
Damage to the house was confined to one room, he said.
Mr Bain said he would also be talking to lines company Top Energy as part of his investigation. Firefighters prevented the shed fire spreading to Mr Wills' home and saved a quad bike and trailer.
However, all contents of the shed - including his stock for Guy Fawkes' night, tools, camping gear and his young daughters' artworks - were destroyed.
Fire Service volunteer support officer Colin Kitchen and Kawakawa fire chief Wayne Martin praised the efforts of the many volunteers who gave up their family New Year's Eve celebrations - and the chance to see the official fireworks show in Paihia - to help fight the blaze.
Two Paihia volunteers were quarantined and had to be decontaminated in case they had come into contact with hazardous chemicals.
For more articles from this region, go to Northern Advocate