A year after losing his wife to breast cancer, solo father says her incredible attitude has given him strength.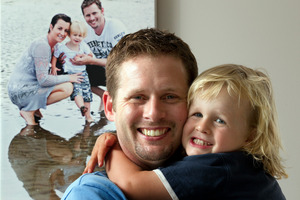 After losing his wife sooner than either of them imagined, Greg Murphy spent the year settling and coming to terms with a life without Natalie.
He was thrust into the role of single father to the couple's young son, Jackson.
But it was something he'd prepared for after nursing Natalie when she became terminally ill with breast cancer and taking on the lion's share of the parenting when she couldn't get out of bed.
Three years ago, the day before Jackson was born, Natalie found a lump in her breast. Five months later she was told she had cancer. The 35-year-old was given two to five years to live.
At the end of November 2011, her time left with her family was cut even shorter - she was told she would be lucky to live another two months.
Natalie began cramming a lifetime into the few weeks she had left and started fundraising for her funeral so Greg and Jackson didn't have to worry.
Her story struck a chord with hundreds of New Zealanders, who offered her their baches, money and helicopter rides to help her live her last days to the fullest possible.
She and Greg had also planned to renew their vows at a ceremony on the beach on New Year's Day.
But her life was cut cruelly short.
In just a few weeks she went from playing with Jackson and trying to explain what would happen to Mummy to being bed-ridden.
On December 19, 2011, Natalie died. Hundreds attended her funeral.
"What she did for everyone was amazing," Greg said. "At one point she had insomnia and I woke up in the middle of the night one night and she was writing paragraphs out to everyone who had helped her.
"I think she really was an inspiration to a lot of people."
Greg has spent this year settling.
He and Jackson, now 3, moved house and did it up together, went to the United States for two months and have made a new life for themselves. But the 35-year-old is making sure Natalie is still part of it.
"There's pictures of her all through the house and he points at her and says, 'Mummy's up in heaven,' and we kiss her picture good night.
"I don't think he quite understands what happens, but he will soon."
Knowing Natalie's fate helped prepare Greg for the inevitable, he thinks. And the way she lived her life - so full of passion and living every minute of it - has helped him do the same.
"I've tried to approach the year really positively. Her message ... was to not take life for granted and I feel like living life better and going out and experiencing stuff is how I kind of grieve for Nat and I think I've done a really good job sort of turning it into something positive."
Greg has also taken a leaf out of Natalie's book - he's found talking to people going through a similar experience and helping them has in turn helped him deal with his grief.
"In the last couple of months, I've started to try to help other widowers or people who are nursing cancer sufferers because it's a really unnatural thing to go through. It challenges your perception of mortality. Especially if it's a loved one, it can really knock you round.
"Just having someone to chat to who's been through it has just been massive and I've just been trying to do that more and more - I find it kind of rewarding."