Family get up close and personal with sweaty tennis stars as they help at tournament.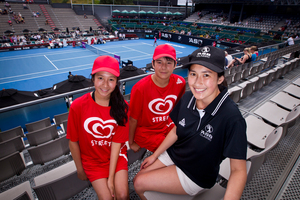 Sasha McEwen, 15, will be spending the next five days picking up tennis balls and handing out towels to sweaty women under the blistering sun - but the St Mary's College schoolgirl is describing it as a "dream job".
Sasha is thrilled to be one of about 120 young people, including her brother James, 12, and elder sister, Sophie, 19, to have been selected to work as ball kids at the ASB Classic.
"It's really cool to be able to watch professional tennis up close, and it's a dream to be taking drinks and towels out to these great tennis players," said Sasha, who has played tennis since she was 5. "It's a dream job being a ball kid and a bonus that I'm doing it with my siblings."
Heather Watson, the British No1 and winner of the women's singles title in Osaka last October, is the player she "likes best" and who she hopes will win in Auckland.
For thousands of Aucklanders, it has become something of a tradition to welcome the new year watching women in short skirts chasing little balls.
Grandmother Harriette Forbes, aged in her 60s, said her festive season "just doesn't feel complete" without attending the annual women's tennis tournament.
"I used to play tennis as a little girl, and watching these women play just brings back the good memories on New Year's and it makes me feel young again," Mrs Forbes said.
Kiwi tenor Geoff Sewell sang the national anthem yesterday to start the six-day event, and the former lead singer of pop opera group Amici Forever also entertained fans between games throughout the day.
Hundreds of bottles of bubbly and beer and strawberry punnets have been supplied for the tournament.
Last year, 54,000 attended the ASB Classic and the men's Heineken Open.
Director Karl Budge said the tournament was a "great place to socialise", a way of "enjoying the sun and celebrating summer".
Kiwi hopes were pinned on the country's top-ranked player, Marina Erakovic, he said.
Yesterday, former world No2 Svetlana Kuznetsova was knocked out by 63rd-ranked Dutchwoman Kiki Bertens, and teenage Canadian wildcard Eugenie Bouchard lost in straight sets to Russian Elena Vesnina.
Champion out in first round
The defending champion, Zheng Jie, was last night knocked out of the ASB Classic in straight sets in a shock first-round defeat.
Zheng was bundled out by an American, Jamie Hampton - beaten 7-5, 6-1.
Her departure came hours after that of former world No 2 Svetlana Kuznetsova, via an opening round three-set defeat to Dutchwoman Kiki Bertens.