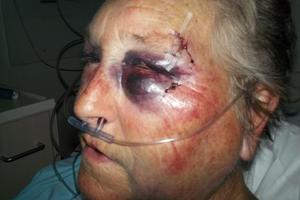 A 71-year-old woman who was bashed in a home invasion in Kawerau has been described as "remarkable" by police.
The woman is in a stable condition in Whakatane Hospital with a broken left cheek and a suspected broken nose after being bashed by an intruder about 1am on Saturday.
She was at home and opened the door expecting to see a family member arriving late from overseas.
However, it was instead a man who demanded cash.
He attacked the woman, leaving her covered in blood on the floor of her home, before stealing her car. No cash was taken.
At a press conference in Whakatane yesterday afternoon, Detective Inspector Tim Anderson repeated his plea to the community for information.
He said in cases such as this, information from the public was vital.
He described the victim as a "remarkable woman" who had a lot of support from the community.
He said she had family in the wider Bay of Plenty area and New Zealand who were now with her.
Detective Constable Ash Clements, of Whakatane police, had earlier said police did not want a repeat of this attack and appealed for information from the public.
"This was a cowardly, callous attack on a defenceless, elderly woman, and is a reminder of the need for all of us to be careful when answering the door, even if we are expecting someone."
Police particularly wanted to speak to anyone who saw someone acting suspiciously in the River Rd area.
Mr Clements said the stolen vehicle had since been recovered and Kawerau police and CIB staff were completing forensic investigations.
Anyone with information can contact Kawerau police (07) 323 1400 or Whakatane police (07) 308 5255.
Alternatively, information can be provided anonymously via the free Crimestoppers phone line 0800 111 555.