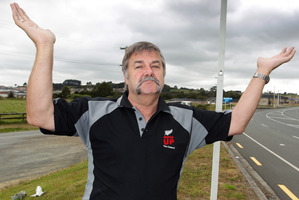 A case of a missing speed-limit sign will head to court because the motorist was unaware of a new express lane for contesting fines.
Ken Day, 59, was stunned when a police patrol stopped him and handed him a $230 fine and 30 demerit points for allegedly driving 29km/h over the speed limit in Ormiston Rd, Flat Bush.
The infringement notice stated he had "exceeded 60km/h posted speed". Day argues there was no posted speed and the only sign he'd seen was for 80km/h.
Local authorities admit a 60km/h sign was missing, but police insist Day needs to go to court next month. Day says he was unaware the courts have a new 24-hour system to challenge infringements.
"When I heard about it, I thought 'hooray' but why wasn't I told about it?"
Day said he turned right out of Valderama Drive on to Ormiston Rd early on a Sunday morning when he was pulled over by a police officer.
Fifteen minutes earlier he drove on to Ormiston Rd from Murphys Rd where the last sign was 80km/h.
Since the Herald on Sunday made inquiries, Auckland Transport has removed the 80km/h sign on Murphys Rd.
"I have always thought it was 80km/h because there is no sign," Day said. "I accept I was 9km/h over the speed limit but not 29km/h."
Auckland Transport spokeswoman Sharon Hunter said the posted speed sign had been removed, probably by thieves.
"It should have been put back up. We apologise for this and the sign will be replaced."
Day sent several letters, photographs and a diagram to police explaining he had been unfairly fined.
Police told him the maintenance of signs was not their responsibility.
Police spokesman Ross Henderson said: "While it is correct that a sign had been temporarily removed from a part of Ormiston Rd, our information is that this was not along the route travelled by Mr Day on the day the infringement was issued."