Moans range from Paul Henry to weather being a dog.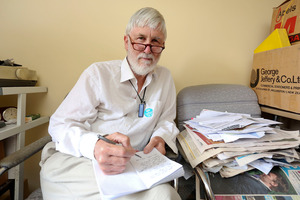 If you think your job has challenging customers, spare a thought for folks who take calls at the country's state-owned broadcaster.
Phone logs leaked to the Herald on Sunday reveal TVNZ viewers berating the company about everything from departed Breakfast host Paul Henry and the apocalypse to feline Aids.
On one day last month at least five callers rang in to rant about Henry. "Can someone at TVNZ assure me they won't be taking that moron Paul Henry on again? It was bad enough when Mark Sainsbury took over but Henry, you've got to be joking."
"Please, please, please don't bring back Paul Henry, in any guise," someone else pleaded. Another said it was "vulgar and disgusting" to even consider bringing Henry back.
TVNZ call centre staff transcribe phone calls and send transcripts to relevant company departments.
Helpful callers offered the broadcaster story ideas. "Did you know cats can get Aids? Can you please do a story on this?"
Last week, one caller rang to complain about the lack of coverage for the "end of the world" on December 21.
A regular barrage of pronunciation complaints were added to story ideas and political rants.
Good Morning host Jeanette Thomas' pronunciation was not good enough for one repeat caller. "I have rung before about this ... she should be taught to speak the correct English."
Another caller said: "I wish the weather person wouldn't say the weather is a bit of a dog. Dogs are lovely creatures."
TVNZ regularly receives requests about its schedules. One caller last week wanted rural English soap opera Emmerdale shifted from 12:30 to primetime.
People genuinely upset at TV coverage can contact the Broadcasting Standards Authority - but the process can backfire on some repeat complainers. Serial complainer Donald McDonald was once fined $50 for a "trivial" complaint by the BSA before that fine was thrown out on appeal to the High Court. Close Up said McDonald once alleged an isobar in a weather show was a subliminal ad for movie Shrek.
This week McDonald said he still called media outlets up to four times a day. He enjoyed pointing out errors including incorrectly reported mathematical measurements.
"It's a serious responsibility," McDonald said.