A young family say they have no regrets about selling up and living on the open road. Nikki Preston reports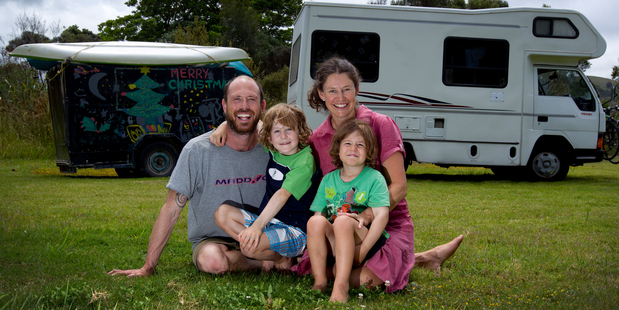 For Blenheim's Dave and Rachel Monk, selling their home and most of their possessions, along with jacking in their jobs and "suburban lifestyle" to live on the road on a sniff of an oily rag was a surprisingly easy decision.
The outdoorsy couple and their sons, Dylan, 5, and Lewis, 4, piled into their 18-year-old Mitsubishi Canter Motorhome at the start of October in an attempt to get out of the rat race until the end of 2014.
The Monks have been preparing for their dream trip for the last three years and sold their house in Blenheim last year before quitting their jobs in September. Both worked as emergency department nurses at Wairau Hospital and Mr Monk's most recent role was as the duty nurse manager.
The idea of trying to live on the road came to the couple when they cycled from Bluff to Blenheim with their children, then aged 3 and 1, on the back of their bikes.
Just 10 weeks into their latest adventure and speaking to the Herald from an idyllic spot south of Whangarei, near Ruakaka, the family was having the time of their life and their modest budget of $300 a week was even affording them little treats like beer, wine and icecreams. They were also probably the healthiest they'd ever been as they caught fish for dinner, foraged for shellfish and ate fresh vegetables from community gardens.
However, the Monks haven't ditched all their home comforts and the camper tows an old furniture removal trailer carrying toys such as kayaks and surfboards, a tent, a generator - and two large bean bags to relax on.
Mrs Monk said giving up their day-to-day life in Blenheim had been surprisingly easy and the only thing she missed was close friends.
"Personally I thought it was quite an easy decision to make because it's just something we've always wanted to do. It sounds quite big and huge but I think for us it was quite easy."
Her husband added it was a no-brainer: "For me, going fishing and seeing the kids boogie-boarding and being with Rachel at sunset on a beautiful beach is much easier and much more achievable than sort of carrying myself off shift work in a busy A&E department five times a week. It's been a conscious decision, we've evolved to a point now where we are essentially living off the smell of an oily rag.
"We had the mortgage, the suburban lifestyle - off to work, back home, the relatively new car. We've kind of stepped away from that and ironically we've got more freedom and we are more at ease doing this kind of lifestyle while it lasts. We're not saying it is going to be our lifestyle forever, but just the simplicity of it all, the freeness adds to a great time."
Their shoestring budget includes groceries, accommodation and diesel, which was given a small boost by the couple collecting petrol vouchers in the run-up to the trip. While they were still earning they also booked flights to London for May next year where they will continue the second part of their adventure and visit Mrs Monk's parents in Wales and other friends and family scattered around England. From there they will explore continental Europe and return home possibly via Asia and Indonesia, depending on how far the funds stretch.
The campervan, which cost them $34,000 three years ago, will also be sold before they fly out and the couple has a separate emergency fund saved away just in case.
The trip so far has been a learning curve for the whole family because, in addition to the boys being home-schooled for about 90 minutes a day, Mr Monk said their learning started from when they woke up and until they went to bed.
"The other day as we were sitting on the sand dunes watching the sun come up (Lewis) observed there was a bit of a lull with the waves - and I just got on to talking about sets and swells. It was like, 'I'm talking to my 4-year-old about this kind of stuff at six in the morning'. It's fantastic. This is essentially the world being our classroom."
Mr Monk had also learned things including that he shouldn't leave burley in their "mobile bach" on a hot day, while Mrs Monk had to suppress a chuckle when she heard her son refer to the camping ground they were parked in as the "garden".
Living in such a small space wasn't a hardship, Mrs Monk said - providing she had an hour or so a day to go for a run so she could have some time to herself.
"Living in a small space, I just love it. I wouldn't want it any other way. No housework. I can clean the house while Dave's driving and you have to tidy up at the end of the day, otherwise you have nowhere to sleep."