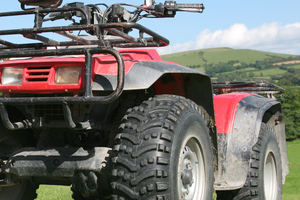 The horrific Boxing Day death of a 16-year-old boy from South Otago is the year's seventh quad bike fatality.
Rowan Cai Parker was killed about 6.30pm when he lost control of the quad bike he was riding in the Chaslands area and drove over a cliff - falling 150 meters on to rocks.
Rowan had recently been appointed head boy of the Catlins Area School and was today described as a "marvellous young man'' and fantastic role model.
He had been visiting a farm property with two friends and had been riding motorcycles on farm land between Marks Bay and Wallace Bay.
Balclutha police said initial inquiries established the group were riding along a track beside the coast line.
Police, Papatawai fire brigade and the Otago Rescue Helicopter attended and paramedics confirmed Rowan had died at the scene as result of his injuries.
His body was winched from the rock and airlifted to Dunedin Hospital.
Inquires are continuing into the crash and the quad bike will be recovered from the scene by helicopter later today.
The case has been referred to the coroner.
Catlins Area School principal Alex MacCreadie said the community was "shellshocked'' by the death.
"No-one expected this, it is one of those terrible accidents.''
Mr Parker was named the head boy of the school, which has 180 pupils, at a prize giving last month.
"He was thrilled, he was very much looking forward to it.''
"I had a marvellous young man who was just starting to stride out and do some wonderful things . . . and now I don't.''
Mr MacCreadie said he had visited the close-knit family, who were "absolutely devastated''.
The Ministry of Business, Innovation and Employment's Labour Department has been pushing to reduce quad bike deaths and injuries through a safety awareness campaign.
Its key safety guidelines are that riders wear a helmet and are experienced or properly trained. The ministry says that children under 16 should not be permitted to ride adult quad bikes (90cc-750cc), users not allowed to carry passengers unless the bike is specifically designed to do so, and that the bikes be used for purpose.
Despite being inherently unstable because of their narrow wheelbase and high centre of gravity, the industry refers to them as ATVs All Terrain Vehicles.
The ministry discourages the term ATV, saying it gives the impression the bikes can go anywhere and do anything, resulting in accidents because a quad bike could be used in a situation where a tractor or a ute was more appropriate.
Following the death of a 10-year-old boy in a quad bike accident on a South Wairarapa farm earlier this year, Chief Coroner Judge Neil MacLean said simple safety messages around the use of quad bikes could "go a long way to preventing these utterly unnecessary deaths''.
Shane White, the son of a sharemilking family, was found under a bike about 1km from the farm gate by his father at the property in Featherston on October 10.
Judge Maclean said the number of incidents did not appear to be reducing. He also warned that quad bikes were okay when used for the purpose they were designed for, but when pushed beyond that, or used by children, they became potentially dangerous.
"I suspect that the key message is training and awareness that they're not toys.
"They're not something that kids should be around.''
Judge MacLean also said there was much debate around protective measures such as rollbars on bikes.
"Sometimes the very protective device itself can be the cause of injury that might not have otherwise happened.''
Quad bikes:
* 850 people injured on farms each year riding quad bikes.
* 28 per cent of all work-related farm deaths involve quads.
* $7 million paid by ACC each year for quad bike-related injuries.
* 2533 claims made to ACC in 2009 related to quads.
- APNZ