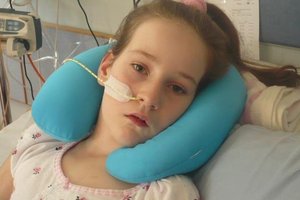 A chance meeting between a mother and daughter and the father of a sick Wairarapa child has resulted in a fundraising idea by the women, who are aiming to raise thousands of dollars for the Grace Yeats Trust.
Ten-year-old Grace, from Carterton, has been unable to move or talk since May, when she was struck down with a mystery illness after complaining of a sore throat.
The undiagnosed disease has left the St Mary's School pupil racked with spasms. She may have to receive treatment for two years at Auckland's Starship Hospital.
Herb Farm managing director Sarah Cowan and her mother Lynn Kirkland from Palmerston North learned of Grace's story when buying wood from the business owned by Grace's father.
They were told that Grace's mother Tracy had used the herb farm's Baby Calm Oil to give Grace regular massages at Starship Hospital in Auckland, which seemed to help her.
After the encounter and hearing about the story, the mother and daughter put their heads together and the idea for Grace's Oil of Gratitude was born.
Mrs Cowan said they first contacted Grace's mother and asked her what scents and colours Grace liked. From their research, they experimented with jasmine, lavender and orange.
The oil is based on Grace's favourite scents and the label has been designed using some of Grace's favourite colours.
Mrs Cowan said Grace's mother was thrilled when they got in touch to explain their idea.
"She was really moved that we wanted to help. She thought it was a great idea and it was very fitting, with the [massage] link and how it had came about."
She said the idea for the name Grace's Oil of Gratitude came about because "you don't know what's around the corner [in life]".
All profits are going to the Grace Yeats Trust, to help bring Grace home and support her and her family.
Grace's mother said massage was one of Grace's greatest pleasures.
"There is still nothing she can do apart from moving her eyes, smiling and laughing and, of course, crying, so touch has become extremely important," Mrs Yeats said.
"I try to imagine how being immobile and unable to scratch an itch or move position to get comfortable must feel for Grace, a loving massage must feel wonderful." In just two and a half weeks, over $1600 has already been raised from the oil.
Mrs Cowan has said she would initially like to reach $10,000 but she is hopeful a lot more money can be raised for the trust.
Grace's Oil of Gratitude is $20 a bottle (100ml) and available from the herb farm retail shop, Ashhurst, online or at selected businesses.
For more articles from this region, go to Wairarapa Times-Age