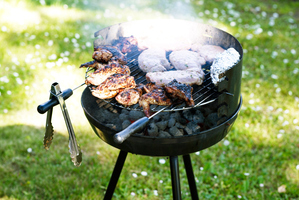 Out at the beach or in the backyard - outdoors is the place to be cooking.
A Herald on Sunday Nielsen poll reveals the barbecue is the preferred choice for Kiwis.
Nielsen asked 3000 people what will be on their menu this summer when entertaining friends and family.
The options were a pot-luck dinner, a barbecue, a traditional roast with pudding, head to a restaurant, expect someone else to cook or avoid all social gatherings.
More than 45 per cent said they would "chuck a sausage or what-not on the barbecue" while 22 per cent said they preferred a pot-luck dinner.
Leaving it up to someone else was the least favourite option - except for those in Wellington.
Eleven per cent of Wellingtonians said they would expect an invitation to someone else's place compared to 3.5 per cent in Auckland.
The most hospitable people polled were 60-plus year olds who opt to cook a roast dinner and pudding for guests.
Chef Grant Allen, who provides recipes in Living magazine, said most people had moved away from a roast by this time of the year because of the warm weather.
"It's a holiday thing to be outdoors, and cooking on the barbecue is fun," Allen said.
During the past year, there had been an increase in people entertaining at home because it was more affordable than dining out.