Consumers embracing Christmas spirit with electronic sales passing 4 million mark in one day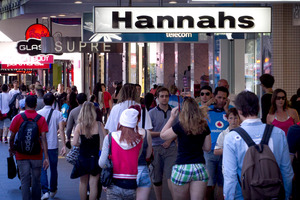 Consumers cutting loose after a year of watching their wallets is one reason for a huge increase in Christmas spending, according to the Retailers Association.
Paymark, which processes about 75 per cent of all electronic transactions, said just over $3.2 billion went through its network between November 30 and December 20 - almost 5 per cent, or $150 million, up on the same period last year.
Chief executive Simon Tong said the results should be welcome news for retailers as they prepare for the final three shopping days before Christmas.
"During the last seven days spending was up 5.8 per cent.
"This makes it one of the highest-spending weeks of the year and [on Thursday] we broke through four million transactions in one day for only the sixth time in our history."
New Zealand Retailers Association chief executive John Albertson said the surge in spending could be down to a relaxing of household budgets.
"We've seen the balances on credit cards go down, we've seen the levels of savings go up," he said.
"Families have rebalanced their household balance sheet and they are now in a position where they feel more comfortable and they're going to go out there and start, not spending madly again, but spending at a better level than they have been."
Mr Albertson said the Rugby World Cup affected spending last Christmas.
"Even the price of the tickets sucked a fair bit of money out ... overall [2011] was a fairly mediocre year."
The Paymark figures reveal the Christmas period has flushed out DIY enthusiasts, with floor covering and furniture stores reporting spending growth of 20.6 per cent on last year. Takings at garden stores and hardware/building supply stores were up 10.1 per cent and 10.3 per cent respectively.
Predictably food and liquor retailers have reaped the benefits of the party season, with restaurants, bars and cafes enjoying 7.3 per cent more spending than a year ago. Takeaway shops were up 6.5 per cent and liquor retailers 11.5 per cent.
The figures will be a welcome boost for a sector of the economy facing a new threat from online stores.
Mr Albertson said people browsing the internet made up about 6 per cent of the market, "but it's growing very quickly". He said a lot of stores were creating websites to gain a share of the online market, but last-minute shoppers wouldn't be able to guarantee orders arrived in time.
Traditional toys such as Lego and Barbie dolls were still popular this year but a lot of people would wake up to high-tech gadgets such as tablets in their Christmas stockings.
The weekend should bring in even more shoppers, with a slight change in focus on Monday to shopping for Christmas dinner.
"But it's always very hard to predict," Mr Albertson said. "New Zealanders always leave it to the last minute and they've got three days left."
- APNZ