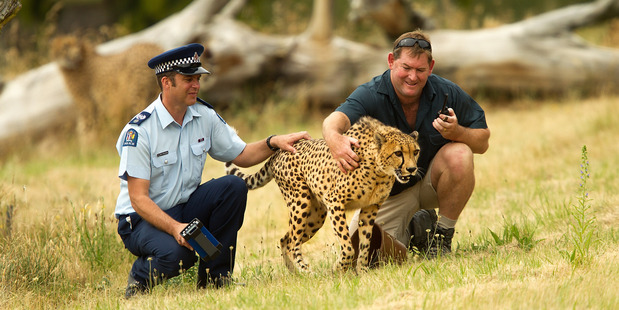 If the world's fastest mammal can't be bothered going fast over the Christmas holidays then neither should you.
That's the message from police and keepers at Canterbury's Orana Wildlife Park, who had hoped to record cheetahs running at speeds of 100km/h or more as a reminder to motorists to take care on roads.
But the cats came to a standstill in front of the cameras. Park spokesman Nathan Hawke called it a suspected case of stage fright, as the cats were meant to chase a lure - bits of hide or a rag attached to a string and pulley system - created especially for the occasion.
Mr Hawke suggested the hot weather might also have put them off.
"They do run and it's something to behold when they're in full flight."
Senior Sergeant Scott Richardson said the road safety message remained the same.
"We've had 32 deaths in Canterbury this year, many of which involved excessive speed.
If the world's fastest land mammal can't beat our speed radar, neither can you," he said.
Nationally, 19 people were killed and 400 injured on roads during the holiday break last year. Speed and alcohol continued to be major causes of crashes, police said.
Drivers this Christmas holiday are being asked to show patience and pull over when it is safe to let other road users pass.