Airport's donation enables beach guardians to get a badly needed boat back in the water.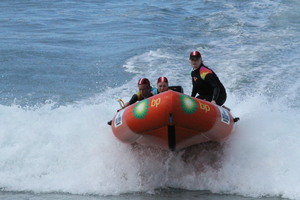 There's nothing like spending a hot summer's day at the beach, and the Karioitahi Surf Life Saving Club works hard to ensure people stay safe while they swim.
The club patrols the South Auckland beach every day with volunteer lifeguards and limited equipment.
Vice-president Mike Lawrence said it urgently needed new equipment to save and preserve the lives of the swimmers, families and surfers who use the beach.
The club is one of 12 charities to receive a $10,000 grant from Auckland Airport this Christmas.
It plans to use much of the money to replace the engine on one of its inflatable rescue boats.
The rest will be spent on a new propeller and spare parts.
Mr Lawrence said the club used its boats for competitions, safety demonstrations and patrolling the 40km coast, which had frequent rips and a "nasty" surf from the Tasman Sea.
Having good, reliable gear was paramount, especially after four people died last season.
"They were fishing when a rip pulled them into the water. We managed to save two people and spent the next two weeks recovering the bodies of the four others.
"We couldn't have done this without the proper gear."
He said that because the club was a charity, it did not have a lot of money to replace equipment, so it was very grateful for the donation.
"This donation goes a long way to ensure prime equipment is replaced, so we can deliver our service with reliable gear."
Mr Lawrence said the club had four other boats which it used for patrols, safety demonstrations and competitions.
But they were not enough to cover the beach on a busy day, so the club needed its fifth boat to be up and running again.
"There's been a lot of concern about replacing this over the last couple of months - this is a blessing really, a good Christmas present."
Auckland Airport spokesman Charles Spillane said the club would put the grant to good use.
"The surf club patrols a huge expanse of coastline on our doorstep, so we feel privileged to provide it with equipment that is going to make the job that little bit easier."
Mr Lawrence said the club was grateful to the airport, and would happily apply for the grant next year.

Airport windfall
This Christmas, the Herald is again featuring charities which have been selected for a $10,000 donation from Auckland Airport. The $120,000 to be distributed came from change donated by travellers this year.