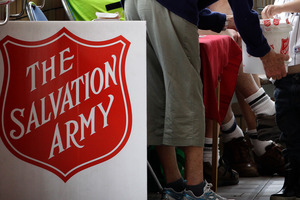 A steady supply of food items and soft toys has been trickling into the Whangarei Salvation Army since stocks ran dry last week - but church officials say more is needed.
Good Samaritans have dropped off their donations at the church's office and the Northern Advocate, which last week launched an appeal for food.
A 22 per cent increase in demand for food parcels had emptied its cupboards and the church feared it might have to buy items for the 200 Christmas hampers due to be handed out.
The army's director of community ministries in Whangarei, Peter Mullenger, said that although there had been a steady donation of food and toys, it was nowhere near the level needed. "Not because people are not bringing stuff in but due to demand," he said.
With public donations, a street appeal last Friday and Christmas in the Park on Saturday, Mr Mullenger said his volunteers were reasonably happy with the situation. He thanked the community for their support.
The church has received a good share of spaghetti and baked beans but was short on flour, rice, pasta and tinned fruit.
Its food bank is seeing more than 30 families a day, instead of 20, and an increasing number of single fathers and youths are seeking help.
Whangarei woman Doreen Brechelt was among a slew of people who dropped off their donations at the Advocate office.
She hand-knitted toys - something she'd been doing for 56 years, together with sewing toys for raffles.