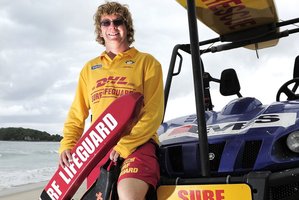 Mount Maunganui lifeguard Callum Knox has achieved the highest award for surf lifeguards in New Zealand - with top marks.
Mr Knox, 18, gained his Advanced Lifeguard Award, through the National Lifeguard School, at the weekend.
One of 22 lifeguards chosen out of 60 applicants to complete the qualification this year, he obtained the highest mark.
"It's a pretty prestigious award, especially for such a young guy," said Bradley Simpson, National Lifeguard School learning and development manager.
Some of those on the course were more than 10 years older than Mr Knox, with a lot more experience, he added.
"He should be very proud of his efforts."
The assessment took place in Taranaki and involved jumping out of a helicopter, working in and around rocks and emergency scenarios.
The exercises included Paritutu Rock, where one man drowned and two others went missing, presumed drowned, in August.
"There were steep rock faces and a surging tide. The water level rises very quickly to the height of an average ceiling. It is going up and down. He was given opportunities to develop skills around that," Mr Simpson said.
Lifeguards were also tested on their fitness - an 800m run followed by an 800m swim and another 800m run - and completed a theory test.
Mr Knox was "an incredibly strong swimmer", knowledgeable about processes and knew what needed to be done, Mr Simpson said.
"He definitely knew his stuff. He stood out."
A former Mount Maunganui College student, Mr Knox was modest about his achievement.
"Everyone there were amazing lifeguards. Any of them could have got it," Mr Knox said.
For more articles from this region, go to Bay of Plenty Times