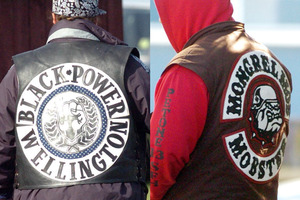 A procedural motion has parked up any further progress on the Wanganui District Council's contentious gang patch bylaw.
The move was made after councillors had debated the issue for about three hours yesterday.
The procedural motion from Councillor Allan Anderson moved that council wait until the private members bill, being promoted by National MP Todd McLay, is determined by Parliament.
The council adjourned a meeting in June to consider all submission and other information on the proposed Wanganui District Council (Prohibition of Gang Insignia ) Bylaw 2012. This was to replace an earlier bylaw which had been ruled invalid by the High Court in 2009.
At yesterday's meeting much of the debate centred on breaches of the New Zealand Bill of Rights Act and the potential for ongoing court action being brought against council if it pushed on with a revised bylaw.
Wanganui Senior Sergeant Shayne Wainhouse told the meeting police believed since the inception of the bylaw, gang activity in the city had diminished and it had had a positive affect.
A legal opinion from law firm Kensington Swan said the redrafted bylaw still risked being in breach of the Bill of Rights and needed more evidence of its effectiveness.
It also recommended suburban shopping centres be removed as "specified places" because the display of gang patches in those areas could be dealt with by private owners.
For more articles from this region, go to Wanganui Chronicle