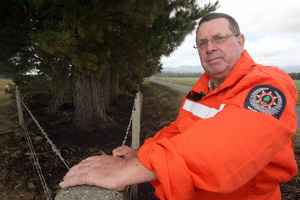 Rural landowners risk hefty bills for fires that take more than an hour to fight, Wairarapa principal rural fire officer Phil Wishnowsky has warned.
Mr Wishnowsky was speaking after a blaze yesterday afternoon in a 400-metre stretch of pine trees making up a shelter belt running alongside the East West Access Rd, in rural Featherston.
About 16 firefighters took almost four hours to control the blaze, which broke out after high winds spread embers from a nearby controlled burn on a farm property.
Rural fire crews from Lake Ferry and Ngawi joined with firefighters from Martinborough and Featherston to battle the fire, along with the rural water tanker from Carterton.
Within half an hour of Featherston firefighters travelling to the blaze, an unrelated fire broke out in grass running alongside Western Lake Rd.
Featherston fire chief Colin Farmer faces big bill over fire McKenna said the second blaze was quickly doused and had involved an area measuring about 50m by 110m and was "perhaps started by a discarded cigarette".
Mr Wishnowsky said the larger blaze had been brought under control and the landowner was left to dampen down any hotspots.
He said the initial burn-off had been lit despite forecasts for high winds and the landowner would be billed for the firefighting.
"That fire should never have been lit in those conditions and the cost to the landowner will be in the thousands, not the hundreds," he said.
"It's just fortunate a helicopter wasn't needed as well. They are often the most effective way to fight rural fires and they are also very expensive."
Mr Wishnowsky said that should the fire take longer than an hour to fight including travel time, the service had the option to recover costs.
"There is a greater likelihood of cost-recovery invoices being sent to the people responsible or, failing that, to the landowner if a fire is lit inappropriately or lit in inappropriate conditions," Mr Wishnowsky said. A restricted fire season started in Wairarapa on Thursday and permits would be needed for any fires lit in the open air.
"We've had a number of instances recently where fires have been inappropriately lit and it has to stop."
For more articles from this region, go to Wairarapa Times-Age