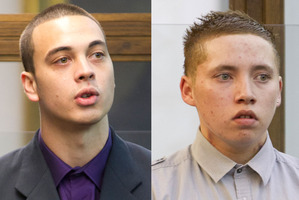 A judge will today begin summing up in the case of two men accused of murdering a Wellington journalist.
Manuel Robinson, 18, and Nicho Waipuka, 20, have been on trial in the High Court at Wellington for the murder of Radio New Zealand journalist Phillip Cottrell.
Mr Cottrell, suffered a shattered skull in an attack in central Wellington as he walked home from work early on December 10 last year.
He died in hospital the following day.
A jury of seven women and five men have sat through two weeks of evidence, from more than 65 Crown witnesses.
Justice Forrie Miller will sum up the case to the jury this morning.
In the Crown's closing argument on Friday, prosecutor Grant Burston told the jury that Waipuka and Robinson did not need to have inflicted the fatal blow to have been party to the murder.
"The Crown says both accused were involved in the beating ... whoever it was who inflicted the fatal blow."
Both accused were aggressive to others before the attack, and both made admissions to being involved in the attack on Mr Cottrell.
In his closing argument, Waipuka's lawyer Paul Paino said if his client was not guilty of murder, he was guilty of manslaughter, but Waipuka was not able to plead to a manslaughter charge because it was not offered.
Mr Paino acknowledged his client was in a "troublesome" mood the day Mr Cottrell was killed.
But he asked the jury to look at Waipuka's maturity when deciding whether he had murderous intent.
"There's a general theme of immaturity running through [both] the accused."
Paino said Waipuka made a "simple straight punch at head height".
Robinson's lawyer Mike Antunovic said the Crown failed to prove "by a country mile" that Robinson was guilty of murder or manslaughter.
Robinson did not commit murder because he was on the other side of the road at the time of the attack, Mr Antunovic said.
The Crown's case hinged on 28 seconds when the attack could have happened, based on CCTV footage, he said.
"Any assessment of this evidence clearly supports the defence case. It clearly established that Manuel Robinson could not have been involved in any incident with Mr Cottrell," he said.
- APNZ