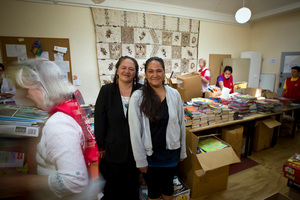 Evangeline Fenton can't wait to tuck into a Christmas lunch alongside 2500 others after a nightmare year.
Budget airline Jetstar and the Herald on Sunday have teamed up on a three-week campaign to help those less fortunate during the festive period. Jetstar kicked things off last week with a $25,000 donation towards the huge meal hosted by the Auckland City Mission.
Evangeline, from Otahuhu, South Auckland, will attend the lunch with her four kids and 11 grandchildren. She said she would otherwise struggle to afford a decent Christmas Day spread for her family.
"My husband and I were on benefits before we started our business and we are too proud to go straight back down that road again," Evangeline said.
"The business hasn't been going as well as we would like but, although we are now in debt, we want to pay it off and get back on our own feet."
Evangeline, 51, has taken work as a babysitter to make ends meet and pays her daughter Priscilla just $100 a week to work at the family firm. Evangeline said the City Mission has been a godsend.
Auckland City Missioner Diane Robertson is delighted with the response to our campaign and has been swamped with offers of help - but she always needs more volunteers.
"We had a lot of people ringing up and have now got all the people we need for Christmas Day," Robertson said.
"We still need people to sort cans and help in the distribution centre.
"The big win for us this week are Simpson and Grierson whose office competition secured over 6000 food items for food parcels. Donation-wise there was certainly a spike in donations and we have reached the half way mark for our Christmas Appeal."
Oceanbridge have also donated $5000 worth of food.
Jetstar and APN, publishers of the Herald, continue to support the Mission and encourage others to help. Both are rallying their staff to donate food and gifts. Auckland Jetstar crew will be packing food parcels at the Mission and some have volunteered to work at the Christmas Day lunch.