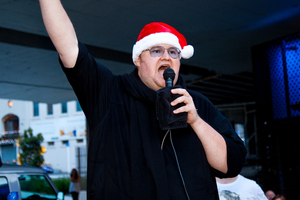 Kim Dotcom has swamped the New Zealander of the Year debate among nzherald.co.nz readers this week, with almost equal numbers for and against him.
He was far and away the most-mentioned name, well ahead of other candidates such as Sir Peter Jackson (2001 winner) and Olympic gold medallist Valerie Adams.
"Kim Dotcom has shown himself to be more worthy of being called a proud NZer than any of the idiotic politicians running amok in central government," one reader wrote.
"Kim Dotcom definitely, for inadvertently exposing the nasty, devious, corrupt charlatans supposedly governing this country," said another.
However, some didn't feel the Megaupload founder was a worthy candidate and others suggested he shouldn't even be eligible.
"I cannot believe people think Dotcom is a good guy. He is a narcissistic criminal.
Anyone who thinks he's a good guy should delve a bit deeper into his past," one said.
"Why anyone would debase the accolade of NZer of the year by nominating the self-promoting alleged cyber-criminal is beyond me," another reader agreed.
"Dotcom isn't even a Kiwi."
Dotcom himself was not so keen on the accolade.
"Some media consider me for 'New Zealander of the Year'. I don't deserve that (yet). If anything I am 'the Victim of the Year', he tweeted on Tuesday.